Become an serger professional quickly and easily!
<- Watch this easy and simple method to manage you thread tension .
Become a serger professional with our online-course:
The only online course that tells you exactly which way you go to solve your serger problems and have more fun with sewing.
Detailed and easy videos.
Suitable for all serger machines!
13 video lessons in HD format. Perfect for viewing on your mobile, tablet or computer.
Pattern-Package!
60 Day 100% Money Back Guarantee!
Over 3000 happy customers!
This is what you get in the serger master course:
Easy video lessons (13 lessons) to watch while serger sewing. For example on your mobile, tablet etc.
You will never again make yourself dependent on any sewing forums because you know what is important.
No subscription model or anything like that. After a one time payment you have full access for the rest of your life including all future updates and bonus videos I will be making.
My personal support, where we can solve your serger problems together.
Other advantages are:
You will learn how you can increase your sewing level with simple tricks and techniques and get more pleasure from sewing.
Find out what unique opportunities sewing with an serger can bring you if you know what you have to do.
Learn why 90% of serger owners don't get their serger problems solved and what you should do differently so that your serger works 100%.
Learn the biggest mistakes you can make with your serger and what it takes to make an immediate improvement.
Why it has never been so easy to use the knowledge of an serger professional.
Find out what other causes can lead to incorrect thread tension.
How you manage to set your machine correctly in the shortest possible time if your fabrics are of different thicknesses.
Learn the 2- and 3-thread technique, which is of particular interest to you if you are sewing thin fabrics or blouse fabrics.
You will receive professional tips which I will show you how you can manage to get your serger problems under control again.
The "Serger Master Course" is the quick and easy way to immediate and lasting success with the serger.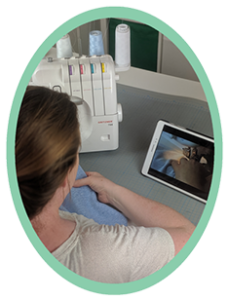 This online course is designed for you!
With the serger master course you can learn how to sew with the serger from anywhere, whenever you want and at your own pace. You can also watch the videos over and over again and watch them as often as you want. This way you can check difficult learning content every time. So you have a very high learning effect and get closer to your goal as an serger professional.
The serger master course is suitable for beginners and advanced users.
The serger master course is easy and simple. You don't need any previous knowledge and everything is explained simply. You can also write me and I will personally answer your question as quickly as possible. If you want to know which lessons exactly occur, just scroll down a little.
+ Free pattern pack. For a limited time only!
Serger Master Course – 100% Money Back Guarantee!
Nowhere else on the web is all the knowledge in one place combined with professional help, so I would like to give you the following sure guarantee:
You test the serger master course for a full 60 days and if you are not satisfied, you get your money back in full.
Yeah, you read right!
If for any reason you are not completely satisfied with my system or the video instructions, or the serger master course does not help you, just send me a simple email within 60 days (from date of purchase) and you will receive 100% money back return!
If you have any question, you can also write me any time.
You can find my e-mail address (info@dots-designs.de) on our sewing blog and also in the e-mail with your personal access data.
I check my email several times a day and love helping anyone who loves to sew get their serger set up correctly.
You see for yourself: Of course, I could never give such a solid and secure guarantee if I and thousands of customers were not completely convinced of the success of the serger master course.
Lesson-1: Thread your serger completely new and what is important if you thread.
Lesson-2: Which yarn is the right for my serger and which one can i still take?
Lesson-3: Quick and easy threading with the knot technique.
Lesson-4: Which thread is being in charge for the wrong thread-tension and how can i find him.
Lesson-5: What do you need to consider if you want to sew thick fabric.
Lesson-6: How to lock an serger seam properly (The 2 best methods!).
Lesson-7: Sew curves easily.
Lesson-8: What you should consider when sewing corners.
Lesson-9: Serger 2 thread technique (interesting for you if you sew blouse fabric).
Lesson-10: Serger 3 Thread technique  Super-Stretch (Interesting for swimwear or underwear).
Lesson-11: Only neaten with the serger, with 1 needle function without sewing together.
Lesson-12: What types of serger-needles exist and what is very important to you to know.
Lesson-13: Clean serger properly and maintain.
If you asked yourself: "Who is this Woman and why is she doing this?"
Hi, my name is Jana and since more than 5 years i've got a big love to my serger and my successful serger blog. 😉
I helped a lot of people to set their serger, so they can sew stress-free and don e their own sewing project.
At the beginning of my sewing career, was my big problem the thread tension as well.
I tried everything, to solved my serger  problem!
New serger thread, serveral settings, new needles, serger thread from different brands…
All cost much time and my results were just frustrated.
I was demotivated, had not much fun anymore, destroyed fabric and felt like a dump.
And i said to myself: "Hey, why i started with sewing?"
Honestly: As creative seamstresses, we want more, otherwise we could buy our clothes in a store.
We want to be creative, proud of our self , fun with our sewing projects and we want to be recognized for this what we sew. And i said to myself:"I want to successfully complete my sewing project!"
The bad thing is:  If  you can't manage yourself, because you got no experience and no knowledge, it's very depressing and robs you a lot of energy and time. May it sometimes felt like crying.
Sum up: I would send my serger back to the dealer and throw it all down. How should i sew like a professional without any experience?
Of course it's not possible!
Do you have any questions about the course?
"Do I need a special serger or is this course intended for any sergermachine?"
No matter what brand, no matter how old or young your sergermachine is. This serger course is for anyone who owns an serger.
"Does the "Serger-Master Course" cost me money every month?"
No, you only make this one time payment and have full access for the rest of your life, including all future updates and bonus videos.
"Is there a support?"
Yes, you can always ask me your questions and I will answer them as soon as possible.
"Can I use this offer later?"
Unfortunately I can not guarantee that.
Here is an overview of the online course for you:
In the serger course you will get to know your serger very well. You learn what you can do, which needles for which fabric, which overlock thread is good, etc., are shown in detail and explained step by step. You will get numerous tips and tricks on what you have to pay attention to in order to have a lot of fun with the serger machine.
You will learn how to always get your thread tension perfectly adjusted.
From today you no longer have to be afraid of threading. I'll show you several versions of how to quickly thread your serger. At difficult points, you can stop the video or watch the process again. You can watch the lessons as often and for as long as you want. There is no time limit. Just log in and watch! 
You will learn to find the thread that causes difficulties and to adjust the thread tension there. You will learn how to neaten up corners and curves with the right tips.
You also sew beautiful decorative stitches with decorative thread. As you sew the different stitch types, you will be shown how to remove and replace your needles and how to use the 2-thread adapter. The following stitch types are sewn:
Easy to clean from the fabric
2 thread technique
3-thread technique super stretch
4-thread technique
3-thread technology rolled hem
blind stitch (invisible seam)
Sew on the piping tape
From today you don't have to worry about sewing. Now that you know for yourself what is important when it comes to sewing.
As a bonus to the serger course, you can expect a pattern package with great patterns.